Welcome to Matsui Laboratory
Welcome to the Matsui laboratory, Intelligent Informatics, Educational in the department of Human Sciences of Waseda University(MATSUI Tatsunori Laboratory).
This laboratory has been contributing to multidisciplinary fields in human intelligence, human sense, human learning and human education since 2006.[details]

Questions and Approaches
Interdisciplinary questions over human intelligence, human sense, human learning and human education are our research motivations.
What is human sense? Is it possible to measure it?
How do humans acquire knowledge? How to persuade them to do so? What persuades us to do so?
Is it possible to represent skills and implicit knowledge? How to convey it?
How to understand human behavior? Is it possible to predict it?
For these questions, we are trying to find answers through 2 approaches:
(1) analytically investigate situations and mechanisms,
(2) create integrated machines which support our research technically.
Utilizing statistic algorithms and artificial intelligence technologies is also one of Matsui Lab's features, making us a leader in the field.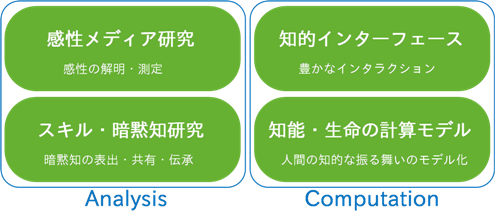 MATSUI Tatsunori Laboratory. School of Human Scienses WASEDA University.